Explore the Akwill BBQ Smoker and Private Chef Event Experience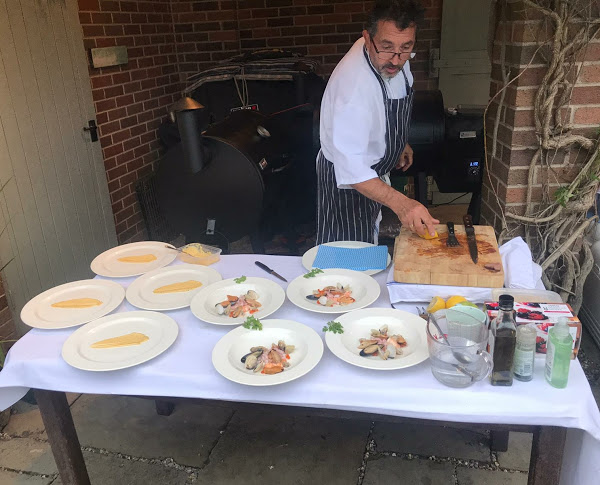 Try a new cooking concept and create the ultimate in fine dining barbecue dishes with the new Akwill Green Energy Barbecue and Private Chef event package. The supreme BBQ Grill and BBQ Smoker. Order yours now.  The Akwill BBQ Smoker is not like other BBQ Smokers it is light and manoeuvrable, easy to clean, heats up easily and quickly and can cook up to 8 chickens at once. Once our specialty trained private chefs work  on the smoked food, your event will experience the magic!
Our Grills on sale use superheated smoke which results in an good appearance and great taste to the grilled food. The BBQ grills poultry and can also process pastries, biscuits, other meats, vegetables and various types of seafood using the unique coco smoke.  Ideal for a catering event looking for a superb new cooking experience. Ideal for outdoor events, weddings, birthdays and corporate parties.
The Akwill BBQ smoker uses a cooking method – popular in the United States but relatively unknown in the UK – so that you can slowly smoke food at a low heat, and then finish it with the crisp outer layer by turning up the temperature. By hiring our green energy barbecue system and private chef, you will have a special event.  Everyone will notice the difference in the way the food you cook looks and tastes.  Whether it is meat, seafood, vegetables or fruit when you use our BBQ Grill and private chef, the end result will be moist, tender, juicy and unique tasty food using our green barbecue system.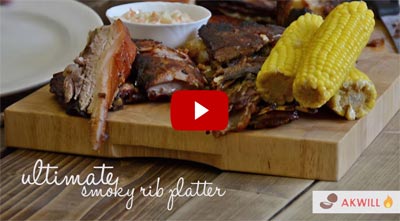 Watch the video of ribs being prepared and cooked in the Akwill BBQ Smoker then see our grills on sale and order yours today. If you would like to watch other videos of some delicious meals prepared in the BBQ go to the Recipes page.
Don't just take our word for how well the Akwill BBQ Smoker cooks, here are comments from former Pub Food Award winner, UK Professional Chef Paul Morgan.
"Light and manoeuvrable
Easy to use, once mastered the P programme
Good flavours and very moist meat
The ease of cooking, i.e. place meat in and come back 2 hours later. Don't have to wait for it to reach temperature before putting meat in
Clean heat material"
Read his full review, it makes tasty reading.
The result from the Akwill BBQ smoker is deliciously different, flavoursome food, created in classic barbecue fashion. Therefore the BBQ Smoker is different to other Grills on sale that are available to you, just read our testimonials to see why.
Click here to purchase our Grills and BBQ Fuel.
Need more details or advice call us now on  (+44) 0207 129 7963, or: